Home
/
Events
/
Summer BBQ - Dinghy away event - Joint event with Offshore and Itchenor Sailing Club
Summer BBQ - Dinghy away event - Joint event with Offshore and Itchenor Sailing Club
28th - 30 June 2024



Bookings will open in the New Year


SUMMER BBQ 28th - 30th June 2024

Joint event between Offshore, Dinghies and our reciprocal club, Itchenor Sailing Club
Bookings will open in the New Year for a fun weekend of sailing and socialising, a weekend not to be missed!
Following a day of keelboat or offshore sailing there will be a BBQ and Band at Itchenor Sailing Club.
The cost for the BBQ & Band only, is TBC per person. The Total price of the weekend if joining an offshore charter is TBC. See offshore details below.
Member boats are welcome, please email rcoffshore@lcsc.org.uk for details.
*DINGHIES*
Cost: TBC This ticket is for the BBQ and Band only (please secure your accommodation seperately)
Details for the dinghy sailing to be confirmed.
Shore accommodation is available on Friday and Saturday night at Itchenor (at member rates) in the comfortable club house.

Rooms available are:
1x Single Room - Shared Bathroom
1x Bunk (1x Double with a Single above) Shared Bathroom
1x Family Room (1x Double & 4x Singles) Shared Bathroom
2x Double Rooms - Shared Bathroom
4x Double Ensuite - (requires a 2-night minimum stay on Fridays and Saturdays)
6x Twin Rooms - Shared Bathroom
Your place is only secure for the BBQ & Band if you have secured an actual ticket via the LCSC website.
*OFFSHORE*
The total price of the weekend is TBC per person (approx £260) (this will include the BBQ + Band).
T&C's, Safety and general information can be found on the club website at www.lcsc.org.uk/yacht-cruises/yachting-general.
Please ensure you have read and understood these before signing up - LINK will be provided when bookings are open.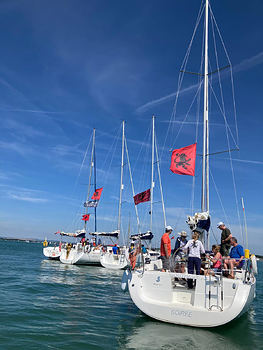 Last updated 11:21pm on 28 November 2023