Hall of Fame
In Honour and Remembrance of:
Karen Beaty-Pownall (56)
Member since 2013 - May 2020
Karen was a very active dinghy and offshore sailor and an enthusiastic supporter of the social events at the club. Her happy, sparkling and positive presence will be missed by all of us who knew and sailed with her.
Ann Fraser (92)
Member since 1953 - February 2019
Ann was a long-standing member of LCSC and the Offshore Cruising Club. She held many positions, including Vice President of the Sailing Club. Ann sailed all over the world in her Rustler - Gollywobbler. Ann and her late husband Bruce Fraser could often be heard arguing their way around the reach at Hammersmith in earlier days when they sailed dinghies. She was a regular attendant of Tuesday night events and is still missed to this day!
Robin Michael Charles Johnson (85)
Member since 1972 - September 2018
Robin Johnson was a brilliant and long standing member of the club. He lived in Chiswick all his life.He was a member of Chiswick Choir and the Uxbridge Loiterers Cycling Club, trained as an electrical engineer and did 2 years National Service, in the early 1950s, as a Petty Officer in the Navy. His expertise was in electronics and heating systems.
Robin's first dinghy was a Flying Dutchman which he sailed at international regattas. He was secretary of the International Flying Dutchman Class Organisation (British section) for a period until 1978. He became a member of the British Olympic Sailing Squad, but turned down the offer of competing in the 1976 Montreal Olympics to continue studying towards a degree and develop his business. He regularly sailed his Laser on the Thames, and often won races in both the Enterprise and Laser classes. Many Club members have sailed with him in dinghies and offshore, and his skill and knowledge will be sadly missed. He was made an honorary member in 2015 and sailed right up to the time of his death at the age of 84. Sadly, he died a few days after his 85th birthday.
Chris Crosland (71)

Member since 1969 - June 2018
Chris was a long-standing Club member, Vice President, and a skilled and enthusiastic dinghy sailor. For over 12 years he battled with Parkinson's disease. As the disease progressed he gave up sailing, undertook race officer duties, until he could no longer climb the ladder into the race box.
Chris was accepted at Lincoln College, Oxford at the age of 16 where he read Civil engineering, Economics and Statistics. He was a quiet, unassuming, and determined man with a very sharp brain and was a valued source of advice and information about sailing on the Thames. Chris was the person to consult when developing the sailing programme and he would rattle off the tide times from memory. He was a valued member of the Dinghy Sailing committee, often turning up with a new collection of scars and bruises from falling over, as his twisted body and lack of balance increased.
He was active to the end, independently minded, intelligent, lively, cussed (at times) but always fun. He bravely fought the disease as it slowly progressed and he only gave up driving when the police took his license away.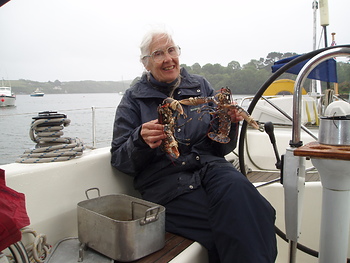 Sally Buckley (85)
Member since 1950 - January 2017
Sally joined the LCSC in 1955 where she met her first husband "Dickie" Dixon. He tragically died in 1980 leaving Sally to bring up their two young children, Martin and Samantha. Sally was a very skilled painter, needlewoman, brilliant cook, and teacher, and in 1991 she married her second Corinthian husband, Chris Buckley.
Sally was a keen and expert sailor, enthusiastically sailing dinghies and later sailing with Chris in their yacht, Wandering Moon II. She acted as Club treasurer from 1982 to 1986 when she was then elected Commodore, the first female Commodore of a Thames Valley Club.
In 1982 the Club embarked on negotiations with Hammersmith Council, which wanted to terminate the tenancy, the Club suggested, instead, an increase in the rent to a level that the Club could afford. The negotiations dragged on, and in 1987 the Club took the Council to court. The case was heard in the County Court in June, at which Sally, as Commodore, gave evidence, but had to wait until September for the decision. She commented at the time, 'I was having sleepless nights and biting my nails with worry'. The Judge ruled in the Club's favour and the Council agreed to pay the costs. In celebration the Club had a party in Cowes a month later, on Club members' yachts - and that is how the Offshore Rally started.
Marie Colvin (56)
Member since 2004 - February 2012
Marie was a British/American journalist who, in between her foreign correspondence work for The Sunday Times, sailed both offshore and in dinghies on the Thames. She was fun to sail and party with. At the start of one of the Middle Sea races the gun went off and Marie instantly threw herself onto the deck, much to the amusement of the rest of the crew who, perhaps, were not so aware of her wartime experiences risking her life in battle zones exposing the reality of war to the rest of the world. She was killed in 2012 in Homs, Syria, during an artillery attack. She sometimes spoke of her experiences and commented that the long-suffering editor of The Sunday Times would refer to her as Bloody Marie as she, once more, failed to meet a deadline, but when the copy arrived it was often dynamite. In tribute to her, the dinghy sailors named one of their Enterprise dinghies 'Bloody Marie'.

Bill Matcham
Member since 1987 September 1985
Bill Matcham, owned a nearby garage. He was an active, and well regarded, member of the Club who frequently volunteered to maintain the Safety Boat. Few members were aware that he was a champion powerboat racer. Some of his achievements in British Water Speed records were:
Driver Crew Boat Make Engine Speed
1978 Bill Matcham Terry Hedges Marina Express Blue Fin Mercury 53.97
1979 Bill Matcham Terry Hedges Intrepid Blue Fin Suzuki 57.89
In 1980 Bill took part in the gruelling and demanding London-Calais-London Race in Intrepid and crewed again by Terry Hedges. They won Class III, with an average speed of 32.41mph and a time of 5.59.07 hours and by a narrow margin, overtaking the leading powerboat just before the finish at Tower Bridge.
One light-winded day, and at Bill's request, Woody took him out onto the Thames in an Enterprise. Bill crewed until they got just beyond Chiswick Eyot. They then changed over and Bill took the mainsheet and tiller for the run towards the Club. Bill was very taken not only by the pull of the mainsheet, as the wind changed, but also by the feel of the tiller as the boat accelerated from 2 knots to, an amazing, 4 knots. WOW.
Many members will fondly remember his yacht, Sea Grace, which was moored in Poole and host to numerous Club members sailing in Round the Island races and many fun weekends.
In 1985, shortly before he left to live in retirement in Ireland, he was presented with a Barograph as a 'thank-you' for all his services to the Club.
Bill was introduced to his widow Linda by his daughter, Yvette, in 1993. They married in 2003.
Last updated 19:39 on 10 August 2020